There was always a container of this in my mother-in-law's refrigerator. It is cheaper than soda, and is made with sugar, not high fructose corn syrup. Plus, you can control the amount of sweetness.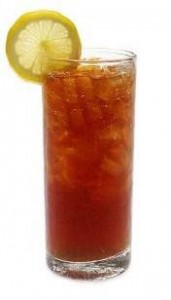 Iced Tea for a Crowd
2013-06-18 20:13:33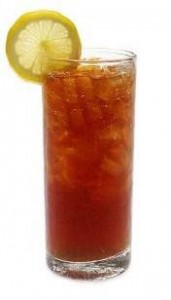 Serves 8
Make a quantity of this and always have a cold sweet/tart drink handy.
Nutrition Facts
Amount Per Serving
* Percent Daily Values are based on a 2,000 calorie diet. Your Daily Values may be higher or lower depending on your calorie needs.
Ingredients
2 quarts water
3 tea bags
1/4 cup lemon juice
1/2 cup sugar
Instructions
Put water in a large pot and bring to a rolling boil.
Remove from burner and place three tea bags in water, allowing strings to hang over the side.
Steep at least 30 minutes. Remove tea bags.
Pour into pitcher.
Using funnel, add sugar, then lemon juice. (Sugar is first because juice would get funnel wet and sugar would stick.)
Stir well, put cap/lid on container and place in refrigerater.
Chill well.
Notes
My daughter-in-law substitutes thawed frozen lemonade for the juice, resulting in a very fresh, natural-tasting beverage with pulp. Since lemonade is sweetened, use less sugar.
You could double the recipe, using the entire contents of a gallon of bottled spring water. Then pour the tea back into the gallon jug to refrigerate.
Nana's House and Garden http://nanashouseandgarden.com/